Thoughtfully Created Scent for Men.
Every great idea starts with something simple, and the first products from Andriel Rolando are no exception. Rise of Apollo and Shores of Atlantis both began as a hobby formula based on the idea of summer and the joys of tropical adventures. Both share that same foundation, but each diverges distinctly and pleasantly from that original formulation.
Discover men's fragrance crafted to evoke the emotions and memories that you carry with you every day.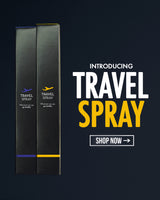 ALL NEW: Men's Travel Spray
Take great scent with you wherever you go with our ALL NEW Travel Sprays for Men. Perfect for that weekend getaway or as a sample for our full-size scents including Shores of Atlantis and Rise of Apollo.
Discover your new favorite today.
CUSTOMER REVIEWS
This stuff is seriously awesome [Shores of Atlantis] and has a nice clean and fresh scent to it. I especially like that they are made here in America!

Mike R. on Nov. 13, 2020
Do you like a bit of woods & Citrus in your fragrances? Then this is for you. I love both fragrances by this house I'm a sucker for a good citrus note

E. Hall on Jan. 27, 2021